Tungsen Oxide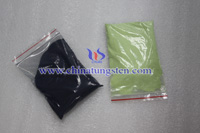 Tungsten oxide is a series of different oxygen content of tungsten oxide with the four common tungsten oxides are: tungsten trioxide (WO3), blue tungsten oxide (WO2.9), violet tungsten oxide (WO2.72), tungsten dioxide (WO2). Wherein WO3 appears in yellow; WO2.9 appears in blue; WO2.72 appears in purple; WO2 appears in brown .
In suspension of hydrochloric acid, tungsten oxide will be reduced by zinc metal to WO2.9; in addition, wet tungsten oxide by UV irradiation, and white gum acid in indirect Irradiated with sunlight will produce WO2.9.
Application
Tungsten oxide is the intermediate in the metallurgical industry, and being an important raw material for preparing tungsten powder.
Tungsten trioxide is an important semiconductor material, and widely used in electrochromic, photochromic, field sensors, catalysts, shielding material ect..
WO2.72 with its most special topography that each particle is the loose particle group by needle or rod-like grains, which makes it the best choice for the preparation of ultrafine tungsten powder and nano tungsten powder.
If you have any interest in tungsten oxide, please feel free to contact us by email: sales@chinatungsten.com or by telephone: +86 592 5129696.
More info>>
2.E-catalog of Tungsten Powder