Tungstic Acid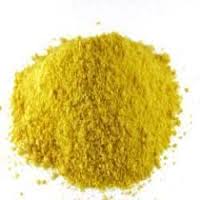 Tungstic acid refers to hydrated forms of tungsten trioxide, WO3. The simplest form, the monohydrate, is WO3.H2O, the dihydrate WO3.2H2O is also known. The solid state structure of WO3.H2O consists of layers of octahedrally coordinated WO5(H2O) units where 4 vertices are shared. the dihydrate has the same layer structure with the extra H2O molecule intercalated between the layers. The monohydrate is a yellow solid and insoluble in water. The classical name for this acid is 'acid of wolfram'.
Tungstic acid the most important intermediate in former tungsten chemistry, is today exclusively manufactured out of APT, in order to make use of the high pirity APT level. For that purpose an aqueous APT slurry will be treated with hydrochloric acid.By that tungstic acid is precipitated ,and afterwards filtered , washed and dried.Tungstic acid has a very high active surface and is only used in small quantities for special purposes as there are : production of ultrafine W and WC powders and production of tungsten chemicals.Tungsten acid is a fine yellow powder and is packaged in sealed polyethylene-lined steel drums.
Safety Description: S24/25 details
WO3 (Min.%)

90.00

Impurities (%,Max.)

Al

Co

Cu

Mg

Mn

Ti

Sb

0.001

0.001

0.001

0.001

0.001

0.001

0.001

Sn

V

S

P

K

Na

Si

0.001

0.001

0.005

0.005

0.005

0.006

0.006

Mo

As

Ni

Fe

Ca

-

-

0.02

0.015

0.002

0.003

0.01

-

-
Apparent density: 0.5~1.0 g/cm3
Igniting loss(%): <10(9)
If you have any interest in tungstic acid, please feel free to contact us by email: sales@chinatungsten.com or by telephone: +86 592 5129696.
More info>>
1.E-catalog of Tungsten Powder