Blue Tungsten Oxide Reducing Furnace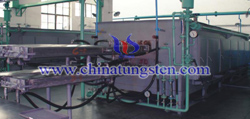 Blue tungsten oxide reducing furnace is used to produce blue tungsten, usually refers to the tungsten powder reduction furnace, commonly tungsten powder and hydrogen reduction furnace.
Structure of new type tungsten powder reducing furnace includes furnace shell and tube, electric wire, thermocouple. Its property lies in that the furnace constituted with furnace wall on both sides and of the furnace wall and the upper and lower brick furnace silk with heating wires; furnace tube evenly staggered in the furnace between the furnace and more than three rows of bearing support insulation bricks, the furnace and the furnace shell, load-bearing brick and insulation of the furnace shell rooms, load-bearing thermal insulation tiles are filled with cotton silicate insulation between each other.
Hydrogen reduction furnace for producing ultra fine tungsten powder, and also used as t blue tungsten oxide reducing furnace, which is consist of cooling water jacket, tube, furnace, lightweight insulation and shaped bricks, pneumatic pusher, tube support, boat containing material, electric heating coil body. It can realize effectively controlling the temperature inside the furnace tube to help fully reduction reaction of hydrogen and WO3.
If you have any interest in blue tungsten oxide, please feel free to contact us by email: sales@chinatungsten.com or by telephone:+86 592 5129696.
More info>>