Sodium Tungstate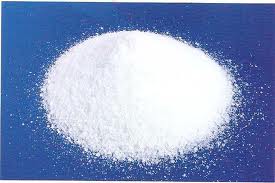 Sodium tungstate, Na2WO4, a tungstate of sodium, is useful as a source of tungsten. It is prepared from tungsten ores used to manufacture tungsten by reducing it. 
It is often found as the dihydrate, Na2WO4•2H2O. This salt is soluble in water and is a moderately strong oxidizing agent, but finds no common use in the chemistry laboratory. Like the molybdate, the deep-coloured complex tungstate(VI,V) is formed on reducing the compound with a very mild reducing agent, such as complex organic compounds. It is also thought to be a possible inhibitor of protein-tyrosine phosphatase (PTPase).[citation needed] It is also sometimes used as a fireproofing agent. 
In organic chemistry, sodium tungstate is used as catalyst for epoxidation of alkenes and oxidation of alcohols into aldehydes or ketones. Sodium tungstate powder is utilized as a mordent in dyeing, for fireproofing fabrics, weighting silk, reagent pigment, tannins, aceto acetic acid, uric acid as well as decolorizing acetic acid. finding applications in assortment of industries.
It is also known for its anti-diabetic effects; Researchers have identified the pathways through which sodium tungstate improves pancreatic function and beta cell proliferation.  Sodium tungstate is available in various quantities suiting to the demands of customers.
Grade

WO3
(%,Min.)

Impurities (%,Max. )

Water Insoluble

Mo

As

Al

Fe

Si

High-pure Grade

69

0.02

0.01

0.025

0.005

0.04

0.01%,max

Common Grade

I

68

0.02

0.015

-

0.025

0.04

-

II

68

0.05

0.015

-

-

-

-
If you have any interest in sodium tungstate, please feel free to contact us by email: sales@chinatungsten.com or by telephone:+86 592 5129696.
More info>>