Thermal Spray Powder
The appearance of tungsten thermal spray powder is dark gray or metallic luster powder, spherical and irregular. Mainly used for supersonic spraying and plasma spraying, widely used in various surface strengthening, surface protection and repair in aerospace, petroleum, chemical, mining and other industries, with excellent corrosion resistance, wear resistance and high temperature resistance.
The tungsten series coating powder currently produced by Chinatungsten Online includes tungsten carbide cobalt coating powder, tungsten carbide cobalt chromium coating powder, tungsten carbide nickel and tungsten chromium nickel coating powder, etc. The specific specifications are shown in the table below, and special specifications can be customized.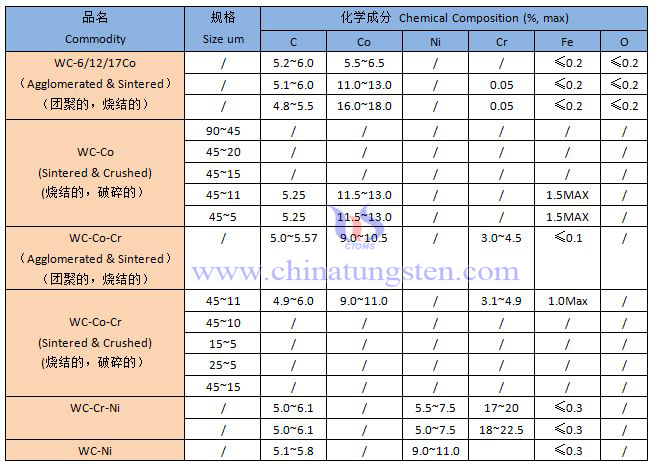 If you have any interest in thermal spray powder, please feel free to contact us by email: sales@chinatungsten.com or by telephone: +86 592 5129696.
More info>>
3.Nano Tungsten Carbide Powder
4.High Density Tungsten Powder