Sodium Tungstate Dihydrate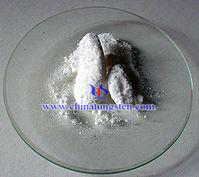 Sodium tungstate dihydrate is white or transparent rhombic crystalline, it may weathering in dry air, below is some basic information:
Chemical Formula: Na2WO4•2H2O
Molecular Weight: 329.8477
EINECS: 236-743-4
CAS No.: 10213-10-2
MDL No.: MFCD00149190
RTECS No.: YO7900000
Melting Point; 698℃
Density(g/mL,25/4℃):4.180
Solubility: Soluble in water, solution is slight alkalinity. Insoluble in ethyl alcohol, slightly soluble in ammonia.
APPLICATION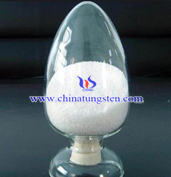 Sodium tungstate dehydrate is used as the raw material for tungstic acid, tungsten products and other tungstate, also mordant, coloring agent and catalyst. Also can be used as fire-proofing agent and analytical chemical agent.
PROPERTY
1.Follow the instruction to use and store so that it wont decompose. Heat it until 100℃ it will lose crystalline water become anhydride.
2.Stable in the air, heat to 100℃ will become anhydrous salt.
3.Encountered strong acid will decomposed into tungstic acid.
4.Toxic. Get contact with tungsten compounds will stimulate the upper respiratory tract and deep respiratory tract. It also has irritation toward human's eyes and skin. During the operating process, making contact or inhalating will make people be general weakness, fever, rash, proteinuria.
If you have any interest in sodium tungstate, please feel free to contact us by email: sales@chinatungsten.com or by telephone:+86 592 5129696.
More info>>