Calcium Tungstate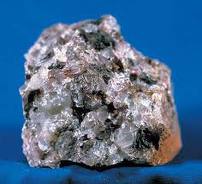 Scheelite is a calcium tungstate mineral with the chemical formula CaWO4. It is an important ore of tungsten. Well-formed crystals are sought by collectors and are occasionally fashioned into gemstones when suitably free of flaws. Scheelite has been synthesized via the Czochralski process; the material produced may be used to imitate diamond, as a scintillator, or as a solid state lasing medium.
Scheeliteis often found to have a grayish white color; yellowish, brownish or translucent. Its streak is white. Scheelite has a greasy luster which helps distinguish it. Moreover, when looking for scheelite, miners use ultraviolet light which causes it to fluoresce with a bright blue color. Many prospectors for scheelite have made good use of scheelite's typically bright blue fluorescence by searching for scheelite deposits by night with ultraviolet lamps. Many old mines have even been reopened after examination of the mine shafts with ultraviolet lamps have proven that the ore is not quite yet exhausted.
Although it is now uncommon as a diamond imitation—much more convincing products, like cubic zirconia and moissanite have long since superseded it—synthetic scheelite is occasionally offered as natural scheelite, and collectors may thus be fooled into paying high prices for them. Gemmologists distinguish natural scheelite from synthetic material mainly by microscopic examination: Natural material is very seldom without internal growth features and inclusions (imperfections), while synthetic material is usually very clean. Distinctly artificial curved striae and clouds of minute gas bubbles may also be obvserved in synthetic scheelite.
The visible absorption spectrum of scheelite, as seen by a hand-held (direct vision) spectroscope, may also be of use: Most natural stones show a number of faint absorption lines in the yellow region of the spectrum (~585 nm) due to praseodymium and neodymium trace impurities. Conversely, synthetic scheelite is often without such a spectrum. Some synthetics may however be doped with neodymium or other rare earth elements, but the spectrum produced is unlike that of natural stones.
Chemical omposition of scheelite:
Grade

WO3
(%,Min. )

Impurities(%,Max. )

S

P

As

Mo

Cu

Sn

Si

Sb

Zn

Fe

Pb

Grade-1

77

0.2

0.02

0.02

0.02

0.02

0.01

0.2

0.03

0.02

0.05

0.02

Grade-2

75

0.25

0.03

0.04

0.04

0.03

0.02

0.5

0.05

0.03

0.07

0.03
If you have any interest in calcium tungstate, please feel free to contact us by email: sales@chinatungsten.com or by telephone:+86 592 5129696.
More info>>
2.E-catalog of Tungsten Powder