Ammonium Metatungstate Application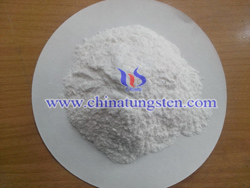 Ammonium metatungstate (AMT) is an important compound in the tungsten smelting process, it has a wide application, and being the excellent raw material for preparing fine tungsten powder, tungsten heavy alloy powder, and phosphotungstic, arsenic and silicotungstic acid; also, it can be used as the raw materials of refinery tungsten-based catalyst, capacitor, nuclear shielding, flame retardant, corrosion inhibitor.
The method of ammonium metatungstate preparing tungsten trioxide is simple and easy to operate, the finishing products of tungsten trioxide has the advantages of grain uniform, high purity, good quality and suitable for the manufacture of tungsten product, radiation shielding material, to meet the needs of industrial production.
Ammonium metatungstate as a new catalyst has more excellent properties, to exhibit high catalytic performance and unique selectivity in the conversion process of methanol to hydrocarbon; in addition, ammonium metatungstate also has great application in petroleum, electronics, defense, aerospace, metallurgy, and fire resistance, etc..
Ammonium metatungstate is the raw material of preparing tungsten disulfide, thereby further to be used as lubricant.
Application of ammonium metatungstate in the electronics industry mainly reflects in:
1.As the film substrate for a semiconductor device, mainly plays a supportive role and improves film property;
2.As the capacitor's medium to better the frequency property, and has the advantages of small dielectric lost, large capacity, high temperature resistance;
3.As raw material of tungsten alloy product in sintering process, the main production process of tungsten alloy shield.
If you have any interest in ammonium metatungstate, please feel free to contact us by email: sales@chinatungsten.com or by telephone:+86 592 5129696.
More info>>