Tungsten Disulfide Application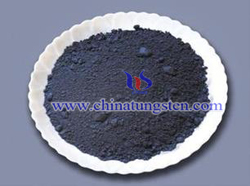 The main application of tungsten disulfide (WS2 is as lubricant and catalyst, and the most widely perceived is its application in the lubricant. Tungsten disulfide is a new solid lubricant with extremely good performance, suitable for lubrication of high temperature, pressure, loading and vacuum conditions. Also, it can be added to engineering plastics to prepare self-lubricating components, and to be mixed with a volatile solvent to paint on the metal surface, and to improve mould life and workpiece finish in the press forging.
Tungsten disulfide as a lubricant has better performance than that of molybdenum disulfide, with the lower friction coefficient, greater compressive strength. Tungsten disulfide can use alone for conditions of high temperature, pressure, speed and loading, as well as chemically active medium running device. The forging, stamping lubricants of tungsten disulfide with other materials will extend life of mould and improve product quality finish. In addition, the deployed filler of tungsten disulfide with PTFE and nylon and other materials can be used to make self-lubricating components.
Furthermore, tungsten disulfide can also use as catalyst in the petrochemical industry with the advantages of high-performance cracking, stable and reliable catalytic activity, long service life.
If you have any interest in tungsten disulfide, please feel free to contact us by email: sales@chinatungsten.com or by telephone:+86 592 5129696.
More info>>