Tungsten Disulfide Spray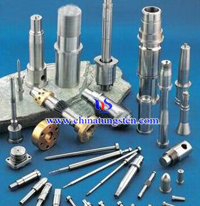 Tungsten disulfide spray is tungsten disulfide (WS2) as solid lubricant to carry out solid (dry film) lubricated on varieties of mechanical moving parts surface of automotive industry, mold, medical equipment, food machinery, textile etc.. Its processing device may be a radio frequency magnetron sputtering vacuum coating machine of tungsten disulfide.
Tungsten disulfide coating is mainly using the lubricating property of tungsten disulfide, through certain equipment and laminating way to form a solid lubricant film on the surface of workpiece, such as military helicopters bearing and others which oil-based lubricants can not or suggest not to touch.
Advantages of Tungsten Disulfide Spray:
1. Oil-free spray and showing very good results in the plastics industry;
2. Tungsten disulfide spray can form a magnet dedicated coating to have a well protecting magnet effect;
3. Playing the roles of abrasion and corrosion resistance, noise reduction and prolonging life.
If you have any interest in tungsten disulfide, please feel free to contact us by email: sales@chinatungsten.com or by telephone:+86 592 5129696.
More info>>