---
Tungsten Powder Products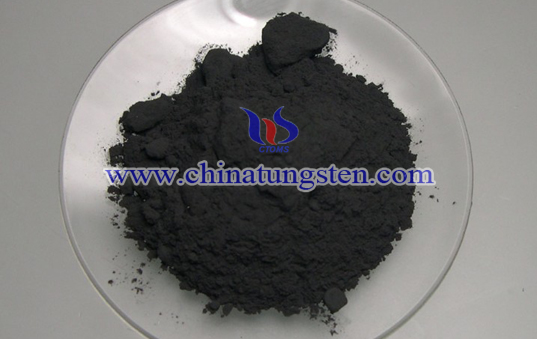 Introduction
Tungsten powder is pure tungsten in powder, apparent black powder. The regular tungsten powder fearture with 2~10um, 99.90% or 99.95%. Tungsten powder used as material for tungsten product usually.
Coarse Tungsten Powder is primarily intended for applications utilizing non-thermal powder consolidation technologies (tungsten– polymer/elastomer, deformable metal binder, etc.) Special powder processing services available for narrow distribution, increased apparent density, and/or high flowability Provides coarse particle size with low alkali metal content-ideal for thermal spray. Widely used for lead-free ammunition and moldable radiation shielding products.
The high quality and high purity fine tungsten powder are typically greater than 99.95% tungsten purity with average particle sizes up to 10 microns. These powders are used in powder metallurgy applications such as electrical contacts, heavy metal alloys, electronic heat sinks, mining tools and fabricated tungsten rod/bar.
Nano tungsten powder can be used as additive materials for high density alloy and tungsten bar and wire, and as the matrix of superhard material, It also can be used as raw material for tungsten-rhenium alloy and tungsten carbide, and as the time-delay powder of safety explosive material, and as the combustible agent for explosive industry.
Ultrafine tungsten powder refers to tungsten powder whose grain size is under 2um, with the grade of GW02、GW04、GW05、GW06、GW07、GW08.
Of the highest quality and purity, the specially prepared crystalline tungsten powder produced at Chinatungsten Online are large particle size tungsten powders beyond the range of the Fisher Sub-Sieve Sizer(FSSS), classified by mesh size. The crystalline tungsten powder has applications such as matrix and spray powders.
Granulated tungsten powder produced at Chinatungsten Online are extra large particle size tungsten powders made from the crushing of sintered tungsten metal. They are classified by coarse mesh sizes. Granulated tungsten powders have applications such as accelerator alloy powders.
Types SR and ST tungsten powder manufactured by Chinatungsten Online are the highest apparent density tungsten powder available. The tungsten powder is ideal for weight filler material and radiation shielding applications.
Wide Spec (WS) tungsten powder is a lower grade of tungsten powder that is specifically developed for non-sintering applications where the high density of tungsten is desired yet ext reme purity is not required. With a guaranteed minimum of 96% tungsten, you can have the high density of tungsten without the high price.
Order & Inquiry